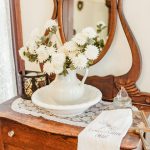 This is a no rush, no hassle package. It includes set up at 3 pm the day before and includes the rehearsal and rehearsal dinner, if desired. Festivities must be concluded by 8 pm (Total 5 hours).
On the wedding day 8 hours are granted for dressing, ceremony, reception and clean up. The property must be vacated by 10 pm. Ask about customizing this package!
Price: $6,000
Capacity: 150
Features:
Here are some features you'll enjoy with the Everything package.
The bridal dressing rooms at Lower Notley Hall Farm manor consists of two connected second story rooms. There is a large armoire, vanity, bed, sitting furniture, 8 foot tall windows that let sunlight pour in through lacy curtains, and plenty of room to mingle, play bridal games, and get dressed.

The groom and groomsmen have a spacious and private area to get dressed, fix their ties, comb their hair, and celebrate together before the ceremony.

Seat your guests before the beautiful Wicomico River. We provide 150 white chairs for your guests to observe the wedding ceremony. Whether the ceremony is held at noon, with the sun shining warmly down on everyone, or in the evening shrouded with the famous firey Wicomico River sunsets, memories of your wedding will remembered and cherished for all time.

The bar area is stylish, vintage, and has plenty of room to accommodate a variety of refreshments for your guests.

Gain access to an appropirate amount of tables and chairs for your party of up to 150 people, including a cake table for your cake(s). In addition, two 8-foot buffet tables and lovely white linens are included to expedite the process of getting your family and friends fed.
For a full list of features in the Everything package, please print or download the chart on this page.